😍

Cut Veggies, Steaks, Pizza Conveniently with this 360  Knife Cutter

🏆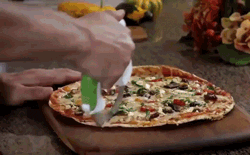 The 360 Knife Cutter is super sharp and designed in a convenient round shape to effortlessly cut through veggies🥗🥗, steaks🥩🥩, pizza🍕🍕, and more. The blade also features a convenient safety handle to keep your hand fingers away from the sharp cutting edge.
HIGHLIGHTS
☑️ SUPERIOR CONSTRUCTION: The innovation rolling the knife blade is made of high-quality stainless steel 42042 which is superior than ordinary steel; extra strong and in line with environmental standards. The housing is made of high quality made of ABS, effective non-slip, feel good.
☑️ 360 ERGONOMIC HANDLE: This circular kitchen knife cutter is thoughtfully designed with an ergonomic grip handle and a button brake, providing you with STABILITY and PRECISE CONTROL for optimal performance without finger numbness, fatigue, and aches.
☑️ EFFECTIVE: The Circular Moving Blade with an incredibly sharp blade provides you with a Quick and Precise cutting experience for various foods and vegetables with minimum effort. The blade is strong and precision tapered in a curved shape that gradually narrows to an incredibly sharp fine edge for neat cuts every time. A must-have for all kitchen enthusiasts!
☑️ MULTIPLE USE: Engineered to perform any cutlery job with least efforts. It is great for chopping slicing cutting carrots, dicing or mincing vegetables, pizza, cakes, fruits and much more with precision. A vital kitchen tool for a better cooking experience!
☑️ EASY TO USE and CLEAN: To use just flush the blade out of the shell and enjoy effective and precise cutting experience that with save your time while cooking. After use. Wipe down the it with warm water and dish detergent to clean the blade, dry it store it ready for the next use.
SPECIFICATIONS
☑️ Body material: 3CR14 stainless steel
☑️ Handle material: ABS
PACKAGE INCLUDES:
☑️ 1set * 360 Knife Cutter Rolling Pizza Knife