The Smallest laptop holder in the world. Folds and easily fits into your bag, giving you ergonomic comfort wherever you go.

High grade Aluminum Alloy
Light weight and portable
Six levels of adjustment, gives you ultimate flexibility
Keeps your laptop Cool
Compatible with All Laptops
Beautiful All-in-One Design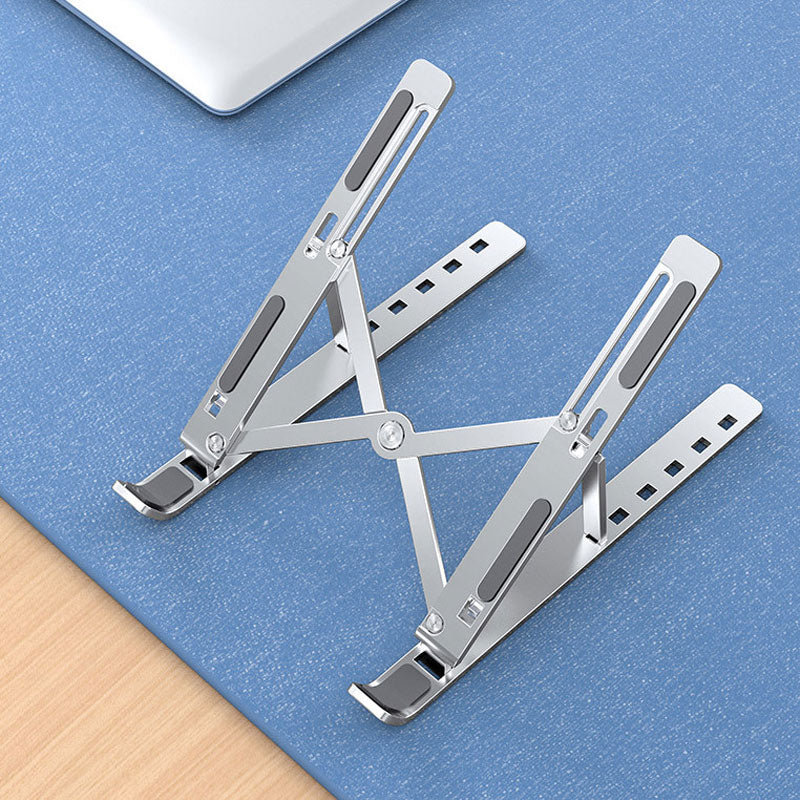 You need
relief
from always being on your laptop...
Your neck and back can get extremely tired when looking at your laptop for too long. A laptop is already a powerful tool, but when you use it for extended periods of time, you can really start to feel it...
Don't worry... We've got the perfect solution

No more neck pain
No more sore wrists
No more working hours in an uncomfortable position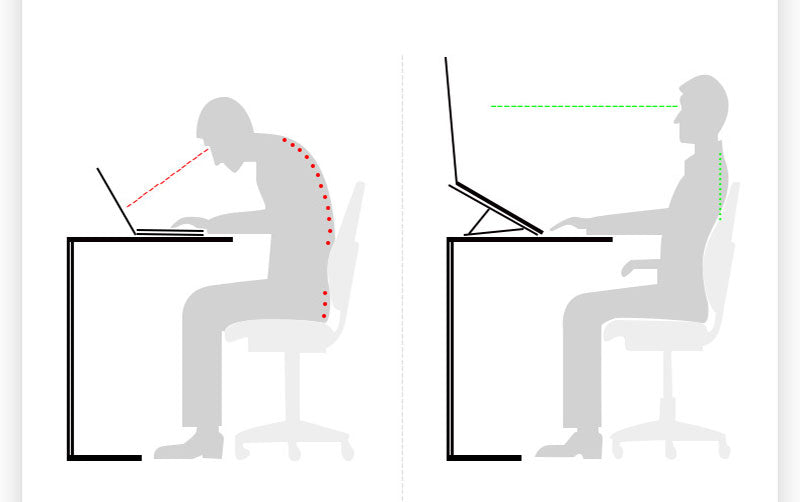 We've got all your problems solved.
The laptop holder
is the ultimate all-in-one laptop stand solution. It easily lets you bring an advanced and strong laptop stand wherever you go. It's perfect for your daily work at home life.
Portable and built with light-weight aluminum alloy
Smallest laptop holder in the world
Supports ALL laptops
Choose up to 6 positions
The laptop holder is fully equipped with a full-range of positions, depending on how high you want your laptop. It easily fits in to any position you feel is most comfortable.
Flexibility in position allows you to use this in any setting. With this many positions, this laptop stand really fits anyone. 
It has just the right range
We spent years researching the correct heights that people like to use their laptops at and that's why we've created a range of 55mm to 155mm for it's standing height. This is the most optimal height for people of all height.
Wherever you are sitting, however high your chair is... you'll be prepared. The stand will work perfectly.
Please make sure to adjust the stand to whatever feels most comfortable to your setting
Built with the strongest material possible
The laptop holder was built with strong aluminum alloy and can even hold the heaviest of laptops. Its high grade aluminum frame has many added benefits.

Naturally cools your laptop
Can handle even the largest and heaviest laptops
Thin and minimalistic design
Built to last a long time
Promotes good posture and reduces pain
Working on a laptop all day can be bad for your back and neck as it's not a natural way to sit.  The laptop holder reduces and relieves the pain by giving you an upright ergonomic position.

Promotes excellent posture
Reduces tension on back, neck and wrists
Great for working long days on your laptop